Brian Halverson, President, seen below with the Association of Trust Organizations (ATO) board of directors at the annual conference in Denver, CO. Halverson was this year's Chair of the three-day conference that brings together trust industry professionals from around the country and nationally recognized speakers to discuss vital topics, trends, and issue facing the trust industry. Halverson is also an ATO board member and the Chair of its Next Generation Network.

Our Retirement Services team hosted its annual Retirement Insight event at the
Fargo Avalon in October. Jana Samek, 401(k) Relationship Manager, presented on
401(k) regulatory updates and best practices for plan sponsors.
Get ready to celebrate: Heartland Trust Company turns 30 next year! Watch for
special events and newsletter articles throughout 2020. We couldn't have reached
this milestone without our great clients who entrust us with their futures.
We held a chili cook-off at the office to raise money for the United Way of Cass-Clay.
This year we also supported the nonprofit by collecting money to wear jeans on
Friday and hosting a tailgating party before a Bison football game.
We held our annual staff retreat this year at the Sons of Norway Kringen Lodge in
downtown Fargo. Our guest speaker was Rollie Johnson who presented "Becoming a
Better You."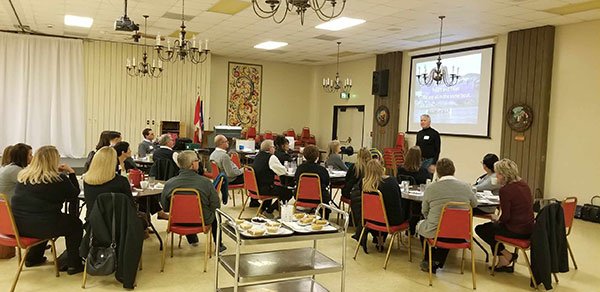 After the retreat, Steve Halverson, Chairman of the Board, gave us a tour of the
lodge and showed us where the lodge president sits during meetings.