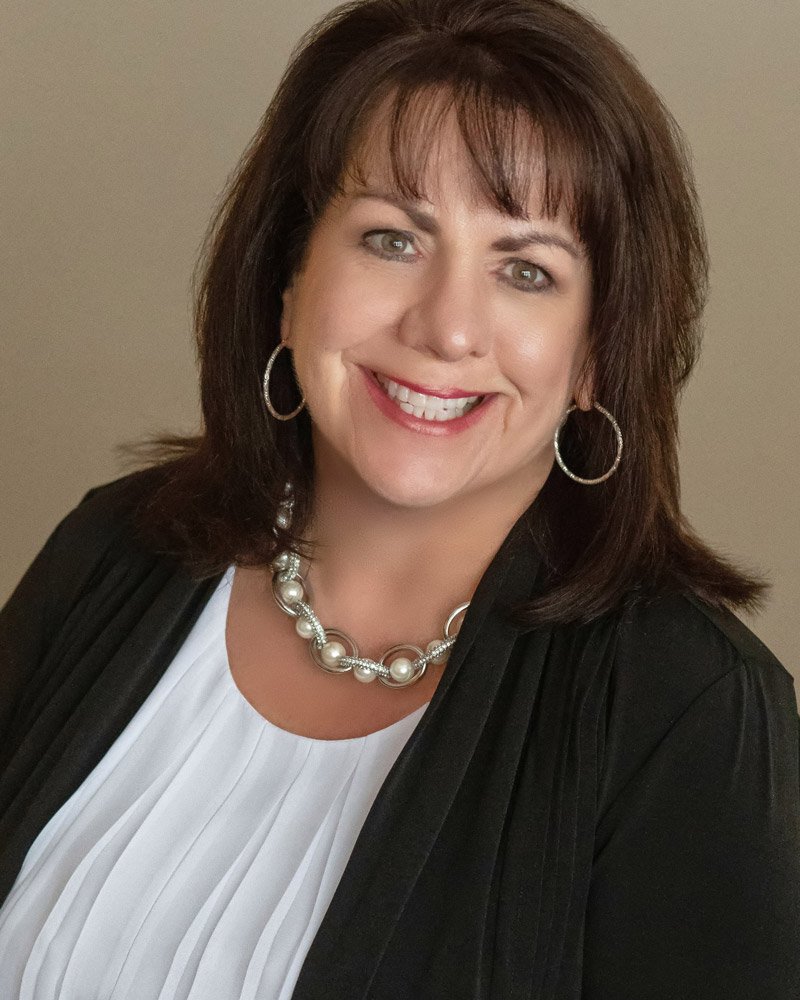 Maureen Jelinek joined Heartland in December as our Executive Vice President / Chief Operating Officer. She has already become a cherished team member. She has extensive experiences in the financial industry – and you won't want to miss her recipe for Green Enchilada Chicken Soup.
Tell us about yourself.
I am originally from Grand Forks. I graduated from the University of North Dakota where I studied business administration and marketing. In 1997, I moved to Fargo when I was promoted to Manager of Deposit Acquisition and Operations at Gate City Bank.
I worked at Gate City Bank for 27 years. Most recently I served as Executive Vice President, overseeing information technology, information security, project management, business intelligence, deposit acquisition and operations, digital banking, call center, compliance and loan servicing.
My husband Doug and I have three kids, two grandkids, and two dogs.
What do you like to do in your spare time?
I love to support and cheer for my kids at their activities. I also like to relax in the boat at the lake and make memories. I love comedy whether it's watching comedians and comedy shows or catching the latest funny movie. I love to laugh!
Tell us about your favorite life experience
My favorite life experience is being a mom. I'm amazed at how unique each child is even when they are raised in the same environment. I enjoy seeing the world through their eyes.
What is your favorite movie/play/book?
The Other Sister, a romantic comedy.
If you could meet one person, dead or alive, who would it be and why?
I would want to meet my paternal grandpa. He died prior to my parents' engagement. My dad shared wonderful memories of him and emulated the many admirable attributes he talked about such as integrity, kindness, respectful, loving, loyal, encouraging, supportive, strong work ethic, etc.
What is your favorite part about working at Heartland Trust?
The commitment of all team members to the company mission, vision, and values. This is an amazing team of professionals and a truly enjoyable culture!
Green Enchilada Chicken Soup
(Thank you, Pinterest, with a few tweaks!)
2½ pounds of shredded boneless skinless chicken breasts or thighs (I use a rotisserie chicken for great flavor and to save time!)
28 ounces green enchilada sauce
24 ounces chicken stock
1 cup half-and-half
2 cups monterey jack cheese shredded
4 ounces cream cheese cubed and softened
4 ounces green salsa verde
4 ounces diced green chiles
1 bunch of chopped cilantro
Salt and pepper to taste
In a large stockpot, add chicken and chicken stock. Simmer until chicken is done and can easily be pulled apart. Remove chicken and shred. (Skip this step if using rotisserie chicken.)


To chicken stock, add shredded chicken (or diced rotisserie chicken) and remaining ingredients. Stir and heat soup until it is warm, and the cheese is melted.


You can make this as mild or spicy as you prefer by using various heat options in the ingredients (mild to hot), adding more green salsa, adding green chili hot sauce or adding diced jalapenos.


Serve with additional green salsa, hot sauce and sour cream on the side. We prefer diced green onions. Enjoy!