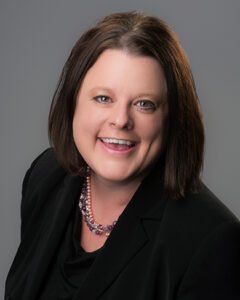 Naomi is a native of Garrison, North Dakota, and she has called Fargo home since 2002. She works on the trust side of HTC and has been a welcome addition to our team.
Tell us about yourself.
I received both an associate of science and an associate of arts degree from Williston State College. I continued my education and received a bachelor of arts degree in communications from North Dakota State University. Go Bison!
I love being an active member of the community, and I have a servant leadership heart. I currently serve on the Great North Pole Board, for United Way of Cass-Clay in multiple volunteer capacities, and at Prairie Heights Community Church. 
How long have you been at Heartland Trust?
I had the amazing opportunity to start my journey with Heartland Trust in October 2020. 
What do you like to do in your spare time?
Traveling is one of my FAVORITE things to do. Bison football is a close second! Summertime is spent with friends and family at the lake. I love to read and often have multiple books going at the same time. On a random note … I love to do laundry!
Tell us about your favorite life experience.
In 2015, I had an opportunity to take extended time off. It was an amazing time of reflection when I reenergized and refocused on life. My focus during this time was connecting with my family and friends to make memories. 
I spent many hours on the golf course with my dad, really getting the chance to know him as a person and not just my dad. We talked about his childhood, his memories, work experience, and what he was most proud of in his life.
What was your first job?
I grew up in a small town that had a Dairy Queen. This was my first employer. To this day, I still love Blizzards. 
What are your favorite movies and books?
Favorite movies: 
Favorite Books 
Fearless

by Max Lucado 

Traveling Light

by Max Lucado

The Circle Maker

by Mark Batterson

How to Win Friends and Influence People

by Dale Carnegie

How to Stop Worrying and Start Living

by Dale Carnegie

The Best Yes

by Lysa TerKeurst
Here is Naomi's recipe for banana bread. The sour cream adds a delicious tanginess and keeps it moist.
Banana Bread
1-½ cup sugar
2 eggs
1 cup sour cream
½ teaspoon salt
2 bananas
2 cups all-purpose flour
1 teaspoon baking soda
1 teaspoon vanilla
Mix in order given with an electric mixer. Pour batter into two loaf pans. Bake at 325 degrees for 60 minutes or until a toothpick inserted into the center comes out clean.