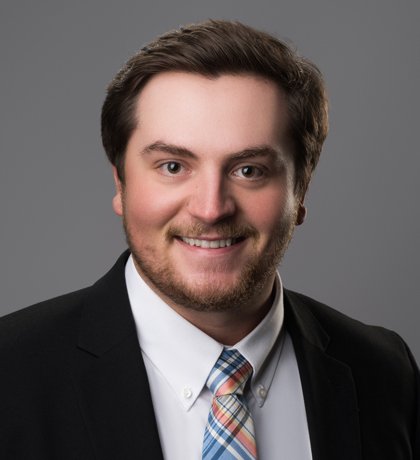 Meet Ethan Linder
Ethan is one of our newest employees, having joined the team less than five months ago. He is the administrative associate for Brian Halverson and Gary Hanson's accounts. He assists them with keeping track of accounts and entering information into our database. 
Tell us about yourself.
I grew up in Esko, Minnesota, a small town outside of Duluth. I am the youngest of six children and we all live in or around Minnesota. I attended Concordia College and graduated the spring of 2020 with a business management major and an environmental studies minor. I currently live with my girlfriend and one of my brothers in Fargo. 


What do you like to do in your spare time?
In my spare time, I like to watch movies, especially in a theatre. I like to play hockey (in the winter) and hike (in the summer). I also enjoy playing many different types of video games when I don't have anything else going on. 
How long have you been at Heartland Trust Company?
I've been at Heartland since the beginning of September 2020. 
What is your favorite part about working at Heartland Trust Company?
All of my coworkers have been very welcoming, and I look forward to meeting clients in the future.
Here is Ethan's recipe for sour soup. He assures us it is delicious.
Sour Soup
1 to 2 pounds of pork (center cut preferred)
2 cups of vinegar
1½ cups of water
4 teaspoons beef bouillon powder
3 tablespoons cornstarch (dissolved in a small amount of water)
Cut pork in ½-inch cubes. In a large saucepan, brown the cubed pork. Try and get all sides browned and build a layer of meat and fat solids on the bottom of the pan. Do not drain the pan.
Once the pork has been browned, stir in the vinegar, water, bouillon, and cornstarch mix. Bring to a boil, then lower to a simmer for at least 2 hours. The longer it cooks, the more tender the pork will be.
As the soup cooks, taste and adjust the flavor accordingly:
Too watery – Add more vinegar and broth

Too strong – Add more water

Too much vinegar – Add more water and broth
Serve over toast, adding enough that the toast is soaked through. Pairs well with bacon and eggs in the morning.